Liever de Nederlandse versie lezen? Klik hier!

The day is almost there, The Sims 3 Showtime is almost released. On the first of March we had the possibility to play the game, in advance we had to say which career we would like to try out and we choose the Acrobat. The game session was with multiple fansites so we could also try out Simport.
Because there is already a preview on the game session in Koln and a extended summary of the live chat with the producers, we have decided to only tell the things we didn't already know in this preview.
That is why we advise you to read these three items which have been published before. English preview on game session in Koln (click here) and to read the summaries of the live chats click here and here, last two are in Dutch though, but they contain plenty of screens!
Neighbourhood
Starlight Shores is a somewhat big American neighbourhood which, unfortunately, seems really quiet. There are a couple of beginner houses and a lot of big villa's. The paramount item of this neighbourhood is the large boulevard, all the rabbit holes and public lots are here. The fun thing is that these holes and lots have undergone a transformation! In my opinion it is a pity that they do not match each other, they differ a lot and they do not form a unit.
– Below you can find an impression on the public lots of Starlight Shores. –
Furniture

I have to be frank and revise my opinion on the furniture. In the first preview I claimed that there only were a few. But now I have seen every category and I have to say that there are plenty of furniture!
The items are divided in three completely different styles, and of course some objects do not fit into a style. The styles are; Retro, Modern and Romantic. Three completely different styles, but luckily there are enough items to fill an entire room!
Old but Gold

Like many know, EA choose to give certain items of The Sims and The Sims 2 a come-back. I think a lot of players are really happy to find these oldies back in their catalog. It's good to see that there are two DJ booths, one which looks really modern and expensive and one which makes a good starter.
Posters

One should notice the many posters you get, and these posters do not look like they belong in a teenager's room. These are large commercial posters! Something that would be fun: Recreate a Sim that is on the poster so that it looks like it is your Sim!
Stage props

When you need to perform you can chose to use the stage props that belongs to the stage you're at or you can make up your own! There are multiple stage themes, you could use all the items and not consider the themes but you should definitely have a look at them!
The first theme is really futuristic with tight lines and lights. The good thing about this stage is that there are clothes that match the theme. On the second screen you can see one light, and because of the black background you can see why this light is so beautiful and special.
The second theme is a lot darker in feeling. These props do not really feel like one theme because of the different colours and stones.
The Hocus Pocus theme is really clear and such items should be expected when thinking about a magician. The nice thing are the background panels.
'Now you're in New Yorrrkkkk, concrete jungle where dreams are made offfff, nothing you can't doooo'. Alicia Keys has written a perfect background song for this stage. The New York theme is everywhere, the background consisting of buildings are the finishing touch.
Kind of odd and mysterious are two words you could call the gipsy theme. Too bad that they do not really feel like a whole theme.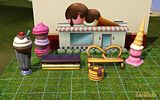 If you do not get hungry when seeing this, then something is wrong. This is a lovely stage full of colours and fantasy. Together with a bright pink outfit you could see yourself in Candyland!
Acrobat

During the play session in Koln (click here to read the preview) I was struggling with starting the new careers. And this time there was no difference. We just couldn't find out how.
The careers of The Sims 3 Showtime really need to be seen as a indepent job (like the ones of The Sims 3 Ambitions, so no workplace and a lot of influence of the player), this means that you need to go to the computer and look for the job. Only after applying you can sing or practice singing and tricks in the out and open.
As an acrobat you start off with 275 Simoleons per week. This sounds like not much but you will get tips for doing tricks, so in the end you will get more.
Really soon you will get a promotion so you will earn 240 per week, from now on you can not only mime but also juggle!
Keep in mind that you are only beginning, so your tricks will fo wrong all the time! But, stay motivated, the more you practice the better you will become. The monkeysuit will be swapped with a tight and cool looking spandex in no time. It is time to show the scary tricks which contain muscles and fire.
As a contortionist you can show off your flexibility. The higher you will get in the job, the more gigs you will get. For all the details you can go to your gig scheme, this can be found at 'work'.
Right before you need to go on stage you will get the opportunity to set up your stage. You can either chose to use the regular stage or create your own.
During the perfomence you, as a player, have a lot of influence on the perfomance. You can chose to communicate with the public but also which tricks you are going to show! Listen good to you viewers, than you will know what they like and what they hate.
At the end of the day everyone wants to have a great performance, but this can only be done when you try hard and to the best you can.
Simport

For an extended explenation of Simport I refer to the summary of the live chat on the 23th of Februari. (click here).
Although there has been a lot of information on Simport, it is still a unique experience! The system needs some getting used to. But when you've done it one time, it will be oke. I really liked checking out how my friends' Sims look like.
There are some 'buts' to Simport. You can only use Simport when: Your Sim reached level 2 of one of the careers and there need to be two or more (young)adult Sims in the household. So you cannot use Simport when you have a household with only one Sim!
Questions can be asked in this topic on our forum!