Wil je liever de Nederlandse versie lezen?  Klik hier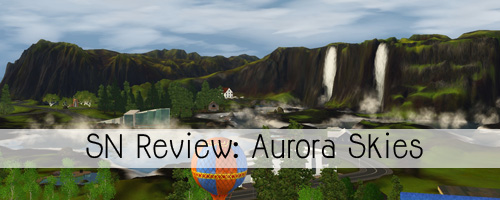 Go on an exploration in a brand new world – Discover the miracles of Aurora Skies today!

A breathtaking surrounding and an untouched nature are waiting for you in Aurora Skies! This curious little coastal town offers the best harmonious lifestyle: vast plots in an environmentally community, impressive waterfalls which are flowing down on the banks of a geothermal lake and hot-air balloons which you can float through the colorful nightsky with. What will you find in Aurora Skies?
According to the The Sims 3 website, but what do we think of Aurora Skies? Is the world worth spending all your Simpoints on? AnsjJ2 is going to find this out.
First impression
At first, I was very skeptic about Aurora Skies, I thought, just like many members, it wasn't as pretty as other worlds, such as Hidden Springs and Lucky Palms. But still I decided to give the world a chance and to take a clearer look at it!
Create A Sim
With this world you'll get a modest amount of hairstyles, four to be exact. A messy and loose hairstyle, a neat pigtail, a wavy hairstyle and for the children a hairstyle with pigtails. The hairstyles that young adults and adults wear can be worn by elder Sims so that they'll have a hip hairstyle, too.
For the women you can find two complete outfits and a T-Shirt with a shawl. Those two outfits exist out of a top with a skirt, which looks like it's designed for elders, and out of a short dress with a legging. The outfit with the legging is in my opinion prettier than the stick-in-the-mud outfit. Again, the outfits are also available for the elders. Of course it's also possible to give the clothing a new colour to your style.
What is appearing in The Sims 3 Store and Expansions/ Stuff Packs nowadays is hip clothing for men. Also with this world you'll get some new hip clothing for your man, including two jackets and some trousers. Time after time it surprises me that everything looks so nice and detailed.
Buy and build mode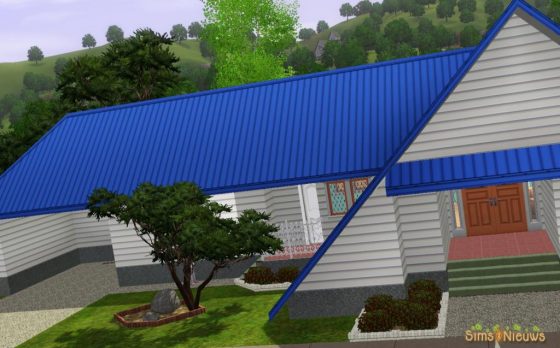 There also are coming new objects with this world, at first I expected one or two objects but I didn't expect that there would be many new objects. When you buy this world you'll get a closet with neon coloured statues, a combination sofa, two chairs, paintings, useful and fun decoration planks, a clock, a winding staircase and not to forget: some decoration items and new trees for outside. There can also be found a new mailbox in buydebug. Also, you can, if you have money and enough space, buy a hot-air balloon for your Sims.
Huizen, Openbare kavels, Rabbitholes en rare plekjes
Op het allereerste gezicht ziet Aurora Skies er niet heel bijzonder uit, vooral niet als je kijkt naar de felle kleurtjes die totaal niet matchen met de kleur van het gras. Het gras is naar mijn mening veel te donker en de kleurtjes net iets te fel. Maar wanneer je nog eens een keer goed kijkt zie je steeds meer leuke aparte dingetjes in Aurora Skies zelf. Achter de grote waterval is namelijk een leegstaand huisje te vinden, jammer genoeg woont hier niemand in en zit ik nog steeds te wachten tot er een keer iemand uitkomt.
The inhabitants' houses
Er staan een heleboel bewoonde huizen op Aurora Skies maar er staan ook genoeg lege kavels waar je je fantasie los op kunt laten gaan. Ook kun je natuurlijk op deze plekken openbare kavels plaatsen die je nog mist. De huizen van de bewoners zijn allemaal in verschillende kleuren en een beetje in de Amerikaanse stijl gebouwd. Daarmee bedoel ik groot en ruim ingedeelde kamers. Er zijn veel grote huizen maar ook een aantal kleinere starterswoningen te vinden in de stad, die ik persoonlijk toch net iets leuker vind dan de supergrote huizen. Ieder huis heeft weer een aparte kleur, iets wat ik ook erg apart vind aangezien de meeste huizen in andere werelden een 'normalere' kleur hebben. De kleurtjes zijn een leuke toevoeging maar mogen van mij de volgende keer wel iets minder fel zijn, ze doen mij meer denken aan Lego dan aan huizen voor een Sim.
Community lots and rabbit holes
Nex to the fact that there are new houses in this world, there also are the well-known community lots. Aurora Skies contains the basic community lots like the Bistro, the gym, the community pool, the school, the library and almost every community lot has gotten a new look. With this new look the buildings fit better next to the houses and the actual world, that's a big asset, because with that the world is one actual piece.
You can also find new rabbitholes in Aurora Skies. The grocery store, the public school, the theatre and the bistro all got a complete make-over and they got a small little detail when you look at the building. We can't go inside the building with our Sims, but we can see how much fun our Sims are having inside. For example; there's a big painting with some dangling lamps in the theatre and the bar which your Sims can buy tickets at. These little details really make your game look more realistic when you want to start writing a diary. With this you won't have to improvise to make it look like a more realistic lot.
Hot-air balloon lot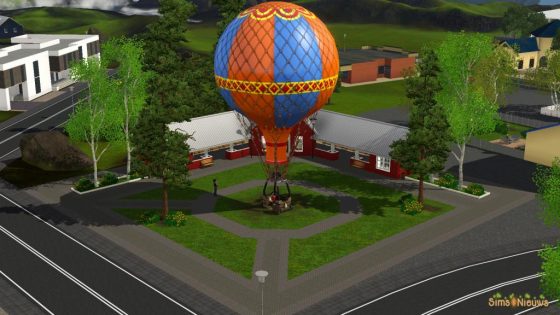 The best lot which was being talked about is the hot-air balloon lot of course. At the 'Perspective Park' you and your lover, or a good friend, can make a trip with the hot-air balloon to take a clearer look a the town. While you're waiting on your turn to take a ride in the hor-air balloon you can get a nice cup of 'Strawberrymocca mixed with Soyamilk and wipped cream', after that you can also use the computer. Useful for Sims that don't own a computer yet.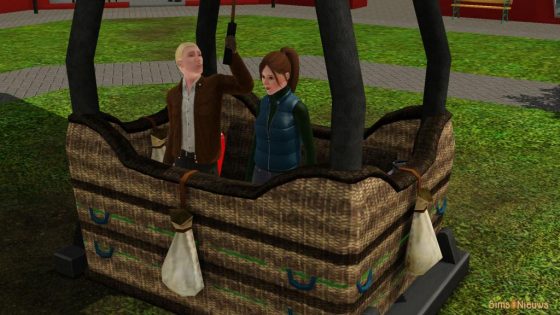 Back to the main attraction of this lot: The hot-air balloon. The family 'Gniep' has volunteered to help with this review and they will test the hot-air balloon for us! With just one little pull you'll take off a few metres of the ground. Don't expect going higher than one kilometre, because you'll just take off a few metres of the ground. Even with a binocular you can't even see the whole town, but you can see the dirty briefs of your neighbour.
When you're floating in the air you'll have a few things to do, like 'make a joyride', 'drink', 'WooHoo!','fly to','propose' and you can go back to lower grounds. It's a pity the two lovers of the family Gniep are already married, so we asked if they wanted to fly somewhere and take a drink. When you want to fly to a lot, you have to be sure there's enough place to land, if there isn't enough place the balloon won't even leave. After posing for our photos they decided to do something else… They take 'trying the hot-air balloon' way too serious!
Environment
The environment is in my opinion the downside of Aurora Skies. It's not that the world is looking horrible, but I can't stand the hard and dirty colours of Aurora Skies. You'll get used to it after a bit, but it's not the nicest texture which is used for this world.
Enough nagging about the texture and the environment, something that is new in Aurora Skies is the sky. When the sun is setting, there will be an uncommon and nice night sky in Aurora Skies. The sky has something magical and it is an incredibly nice sky. The sky was made possible earlier in a mod, but I'm very happy that EA put this sky in the game itself. Next to the incredibly nice sky there's a humongous waterfall to find in the town, this waterfall can't be overlooked because it's around almost the whole town. The waterfall is an incredibly nice place where you can picknick with your Sims househould.
Conclusion
Aurora Skies might not be my most favourite world out of all the store worlds that have been released, but I started to appreciate the world more and more as I was playing. Aurora Skies might not have the nicest texture, but still, this world deserves a 7.9 out of 10. The Sims 3 Aurora Skies is for sale in The Sims 3 Store for 2.450 Simpoints. Thanks to EA Benelux for the review sample.
Written by: AnsjJ2
Translated by: Shevens