Introduction
With a lovely cocktail on the beach enjoying the view, the kids who are racing with the jet skis and their dad playing around with the youngest of the bunch, it seems to be the dream of any Sim! But this isn't so because the tenth expansion pack of The Sims 3, The Sims 3 Island Paradise, feels like a real tropical paradise! In this review, AnsjJ2 will take you to the wonderful world of Isla Paradiso and will tell you all the ins and outs of The Sims 3 Island Paradise.
Loading screen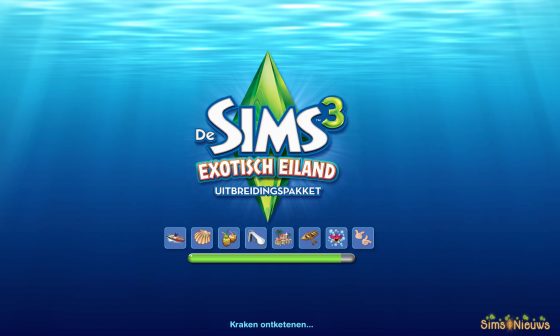 A cheerful blue screen makes your expectations of The Sims 3 Island Paradise grow even bigger. The blue screen represents the ocean and when you look really closely you will see it move a little bit and there are sunrays beaming through the water, these two things really make it feel like the ocean. The loading screen is really calm and simple compared to the Katy Perry stuff packed for example. But then again, anything is better than that screen. Again there are some nice lines that flash by and some new loading icons which prepare you a little bit for what you can expect.
Isla Paradiso
Every new expansion pack deserves its own new world, not that every gets one, but fortunately this one does! Isla Paradiso consists of multiple islands and seems to be bigger than other worlds. On the main island you can find the centre with the basic rabbit holes and public lots, for example the bookstore, the dining, the supermarket, the gym, the pool, the theatre and so on. on the other islands you can find some other lots like the thrift shop, the stylist, the museum, the scientistbuilding and the dump. The public lots and the rabbit holes got a make over and match the tropic theme perfectly. But there are also houses and resosts on the smaller islands.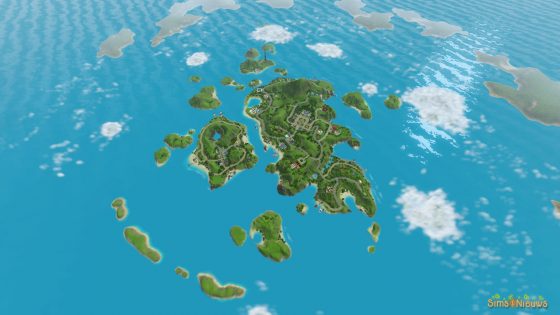 Isla Paradiso is a world where there is a lot to discover because not all islands are instant available. Some of them are still 'closed' and are surrounded by clouds. There are about 8 islands to discover, you can do this by just going there but for some you need to find or buy treasuremaps.
The tropical waterfalls and palmtrees give Isla Paradiso just the extra vibe that you want when you walk around on a tropical island. And the beaches do add to that feeling. On these beaches you can sunbathe, build sandcastles or just play in the water.
Something that is really special about the world is that is does nog look like Sunlit Tides at all! To be frank, I thought that it would. But the islands are not as sandy as the ones of Sunlit Tides, but they are not, in fact they are green! Isla Paradiso is really beautiful and there is a lot to discover. The docks for the houseboats, the houses on pilars, the weird big statues and of course the diving erea! I am really enthusiastic about this new world and it is as if you are punishing your Sims when you send them off to work!
Create a Sim
A fashionable Sim shouldn't walk around naked, especially because there are no nudist beaches. Creat A Sim is not only about clothing but also about hairdo's, accessory, tattoos, traits and lifetime wishes. Let's start with the first thing on the list, hair!

No storm will destroy the hair of your Sim, because it all stays in place! Men get seven new haircuts, for women eight and for young girls one. The hairdo's in general do not set back, the are really summery and fit perfectly into the daily life of Sims. Especially the new haircut for the child is adorable, is EA finding out what we want?
The clothing does not disappoint at all, especially when you see how much you get withint this pack. It includes tropical outfits, tops, shorts, bathingsuits and lifevests. What is also great is that there are also items for teens, children and infants! finally some new clothing for these age groups, but don't get too excited now. For infants it is only three items, however they do look adorable, this also counts for the items for children.
Whenever you want to go swimming it would be nice if you could just turn around and be changed into your bathing suit. With The Sims 3 Paradise Island it is all about tropical weather and all the activities that go with it and this includes swimming. Obviously you need a bathingsuit for this and let me tell you, there are enough options for this. Women get two new bathingsuits and one new bikini, men get two new shorts. The divingsuits are also listed as bathingsuits.

Even though shoes are not really accessoiries, I will treat them as such. Don't get to enthusiastic because there are only one new pair for women. Those are cute flipflops with some nice details. One of the accessories which have to be in this pack are the swim wings for children and toddlers, they are so adorable! But there are also some other nice accessoiries like a sunglasses, fiving glasses for all ages and whistle for the life guard, all in all small but nice details.
The needle of the tattoo artist is full of new inkt because The Sims 3 Island Paradise gives you 5 new tattoo's. again, the tattoo's also have a tropical vibe and you get to choose between a octopus, anchor, MermaidSim or a tattoo in memory of the island. The tattoo's are quite nice and make your sailor a bit tougher with one on their arm or chest.
This expansion pack cannot do without new traits. That's why there are two new ones, 'Sailor' and 'watterrat'. Sailor is, in my opinion, the most convenient one for Sims on a boat. Sailors enjoy being on the open sea. They are rather on a boat than on land. Because they know the sea so good, they are really good in fishing and won't get seasick. But what to say about the waterrat? Well, pay attention to them because they will swim away really quickly!
Besides the new traits, there are also some new lifetime wishes! There are four new ones and I've put them in a down below. Personally I think the new wishes are challenging and match the expansion pack perfectly.
Resort Empire
To become a true hotel mogul, your Sim will need to manage employees, maintain a profit, and always satisfy patrons. Once your Sim has created the perfect resort empire, travelers from all around will flock for a chance to stay at your luxurious getaway.
Be the owner of a five-star resort
Make a 40,000 simoleon profit from your resort
Deep Sea Diver
The bottom of the ocean hides treasures and creatures never seen by land dwelling Sims. Only the bravest and foolhardy divers can survive the deadly deep searching for underwater riches. Be sure to bring your oxygen tank!
Max the Scuba Diving Skill
Sell 40,000 simoleons worth of collectibles
Seaside Savior
Anyone can be a Lifeguard, but the Sim who knows how to rescue drowning Sims is the only a true hero!
Save 50 Sims while working as a Lifeguard
Great Explorer
There are mysterious areas that have not been mapped, and for Sims to find them, they need to dive into the deepest depths. Search high and low for these hidden islands and claim them!
Discover all 8 Hidden Island