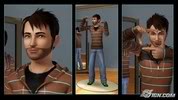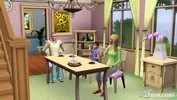 IGN heeft op deze pagina meer informatie online gezet over de 2e buurt die je bij De Sims 3 krijgt als je je spel registreerd: Riverview. Ook geven ze meer informatie over geesten en er zijn wat nieuwe screens bijgezet.
Riverview is a far different place than Sunset Valley, the town that will ship with the game. The latter is a gorgeous little coastal town while the former is designed to be a slower, more tranquil farming community. It's a pretty place, surrounded by farmland and with plenty of little nooks and crannies to explore. As you'd expect from the name, the river that runs through it defines the map. Quite a number of houses are located on an island in the middle of the river, and it feels like a more rural place. There's a great fishing spot that doubles as a secluded barbeque area, as well as a mini-Stonehenge on a small island.

We also learned that the supernatural can be a fun element in the game. I created a character and bought a furnished house in Riverview that apparently was built on an old Native American gravesite, which means it's haunted. True enough, there were huge puddles of water on the floor courtesy of the family of ghosts that inhabited it. It turns out the way a sim dies can influence the type of ghost they become. These sims had apparently drowned, but if your sim is, say, electrocuted, their ghost might have electricity zipping around them. And there are ghost busters in this town; just like you can call a plumber to fix some clogged pipes, you can apparently summon a specialist who clears your house of spirits.