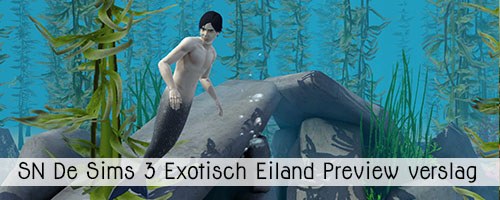 On Wednesday the 29th of May 2013, Sims Nieuws was, along with a lot of other fansites, invited to come and play The Sims 3 Paradise Island at the EA office in The Netherlands. The atmosphere in the office was literally tropical, also because there were cocktail shakers, no, we didn't get drunk because the cocktails were alcohol free! There we fat boys everywhere which we could sit in, Hawaiian skirts were hung up to the table which Island Paradise could be played on, and not to forget, the fun beach balls and beach hoops which couldn't be untouched by any fansite. The balls were thrown everywhere, literally!
After a delicious lunch we got a little presentation about The Sims 3 Paradise Island, this presentation was taken care of by SimGuruJordy and was done amazingly. Everyone was very quiet during the presentation, because the game was incredibly pretty! Whilst watching the presentation we got to see the house boats, the lifeguard (It's a pity nobody wanted to drown) and we got to see a little of the snorkeling, it's a shame we didn't get to see a Mermaid Sim!
Create A Sim
As long as your hair looks good whilst being on a boat! The Sims 3 Island Paradise gives you 7 hairstyles for the male Sims and 8 hairstyles for feminine Sims. This includes the diving caps, the hairstyle with a hat or the hairstyle with the flowers. The hairstyles look really good and tropical, that's a real plus!
Clothing is something most of the Sims fans look forward to and want to know everything about. There is a lot of new clothing for: Men, women, teens, children and toddlers! Yes, you read it correctly, there is one outfit for toddlers. The outfit for toddlers is a kind of dress which you can see a little bit of the diaper coming out underneath. It looks very cute and just like the children clothing, the children's t-shirts all have their own cute print on it. The clothing for (young-)adults really looks great as well, it has a tropical tint. For (young-)adults there also are complete outfits. For women there are, next to new sandals, some new accessories, like sunglasses, the flute of the lifeguard and of course, the diving glasses.
Tattoos
The tattoos normally speak for themselves, in this pack there also are some new tattoos, in a tropical theme!
Traits
There are two new traits which can define and better your Sims lifes a little bit better.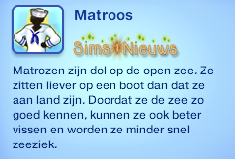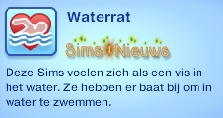 Lifetime Wishes
Besides all the new clothing, accessories, tatoo's and traits, there are also new lifetime wishes for The Sims 3 Island Paradise. I'm not sure whether these are all the lifetime wishes there will be, I couldn't discover anymore.
'Deep Sea Diver'
The bottom of the ocean hides treasures and creatures never seen by land dwelling Sims. Only the bravest and foolhardy divers can survive the deadly deep searching for underwater riches. Be sure to bring your oxygen tank!
Max the Scuba Diving Skill
Sell 40,000 simoleons worth of collectibles
'Seaside Savior'
Anyone can be a Lifeguard, but the Sim who knows how to rescue drowning Sims is the only a true hero!
Save 50 Sims while working as a Lifeguard
'Great Explorer'
There are mysterious areas that have not been mapped, and for Sims to find them, they need to dive into the deepest depths. Search high and low for these hidden islands and claim them!
Discover all 8 Hidden Island
'Resort Empire'
To become a true hotel mogul, your Sim will need to manage employees, maintain a profit, and always satisfy patrons. Once your Sim has created the perfect resort empire, travelers from all around will flock for a chance to stay at your luxurious getaway.
Be the owner of a five-star resort
Make a 40,000 simoleon profit from your resort
Gameplay
After being in CAS, it was time to take a look at the actual game and try out as many things as possible in a short amount of time. I probably haven't written down everything at once, but we'll take a better look at that in our review once the game is released.
Isla Paradiso
The new world which comes with The Sims 3 Island Paradise, Isla Paradiso, is incredibly pretty and it's a big world, as well. In this world it's possible to take a dive into the deep, this is only possible in Isla Paradiso and won't be possible in other worlds or future store worlds. I well take a better look at diving later on. Isla Paradiso is a world where you can discover really much, not every island is directly reachable. The still 'closed' island can be discovered by the big white clouds above the small/big island. You can open up +/- 8 island, I'll get back to you on how you can open these up later. The world has a lot of nature and you can certainly smell the tropical tint. The new world is one big vacation party, so that would make going to your work a terrible sentence for your Sims.
RESORTS – As an owner
You can use the phone to start owning a resort, just pick up the telephone and use the option: 'Become an owner of a resort' and choose a lot which you want to build your resort on. If you already own a residential lot on an island you can transfer it to a resort. If you can build a resort on a house boat… I haven't researched that yet.
If you have your own resort it's getting time to start building it up in buy- and build mode. There will be a special menu for resort items and more.
You can also add blueprints to your resort to make building your resort easier, you won't have to think about putting down the walls in the right way with the right wallpaper. There are a lot of different kinds of blueprint modes: Lobby's, hotel rooms, gyms, places for eating, bars and lounges, ball room and wedding chapel, party room in the open-air and a pool area. This is very handy because with this your resort is done in 3, 2, 1. You can always change your wallpaper or put a new TV in the room later on.
On the little houses where your guests can stay in are VIP-locks. These are only findable in the build mode of your resorts. Next to this, there still is a nice feature, the work outfit. The working clothes of your staff can be given a theme that'll match your resort. To give your Sim the look from your hotel, you click on your staff and choose the possibility to create a particular outfit or you can just change the oufit.
RESORTS – Staying at a resort
When you walk into a resort as a guest you do have to check in, otherwise you can't use anything. When you are going to check in you can choose, for example, you want to stay for 2 nights: Standard Tower room (114 Simoleons). You can also stay longer and take a luxury suite, of course. These are more expensive than the normal price of 114 Simoleons. In this resort your Sim can choose to take a nice swim, enjoy having a drink in the pool at the bar or even play under the waterfall! Sometimes you can walk on heated charcoal. Your Sim might love it and get clean feet of of it, but your Sim might also totally dislike it because of their burning feet. Ouch! You can also get a massage and get some other wellness activities during your stay.
In the end, you have a nice rest in the resort, but you also sleep there. It's a shame there are some rabbit holes in the world. I don't know if they all are rabbit holes, though.
MermaidSims
MermaidSims are the new sea creatures who adapted to the mainland, they can even walk! Whenever they walk are on the mainland they wear a weird scaled legging which makes you know who are the MermaidSims. MermaidSims eat regular food, but prefer seafood like seaweed and fish. You can grow your own seaweed but you can also simply buy it at a supermarket. Even though your MermaidSim can be on the mainland, it also needs water. Whenever the mood 'hydration' is running low, your Sim will dry out, they can even die because of it! So be sure to put you MermaidSim into the pool or the ocean to prevent such a cause of death. The mood sliders of the MermaidSims are blue instead of green, just in case you may forget you have a MermaidSim.
Whenever a MermaidSim walks into the water, its tail will immidiately appear.They swim really smoothly, unlike the regular Sims! MermaidSims who do not swim enough can lose their tail and eventually will even lose their scales and will become regular Sims again.
MermaidSims can mate, so this means you can have MermaidSimbaby's! You can recognise a MermaidSim by its pale skin, like a Vampire, so when your baby is born you can immediately see if it is a mermaid. When your MermaidSim is a child he or she will get scales like an adult MermaidSim, be careful because your MermaidChild needs water too.
Lifeguard
The new career, Lifeguard, is the same as the other careers of The Sims 3 Ambitions. As a lifeguard you need to go to the beach, walk around and look for drowning Sims. You can also decide not to help them, but I don't think this is good for your career! The Lifeguard career goes up to level 9 and to get a promotion you have to: Help others, be athletic and have anough charisma.
Whenever your charisma level is high enough you can go to the work menu and choose to walk like a lifeguard. This looks like the famous Bay Watch run. You can also choose for 'automatic' so your Sim can choose for themself.
Diving
Diving is a new skill you first have to manage before you can actually go and dive. You can get a class at the science building for 400 Simdollars. After that you can go and have a look underwater and discover tons of new things, perhaps you will encounter seacreatures like a shark! Being attacked by a shark is also a new cause of death, but luckily you can also win the fight.
It is a pity that you cannot discover all the places from the start, not the entire ocean is open for you just yet. Small caves can be discovered by simply clicking on them and enter them. Too bad these are rabbit holes. Diving is only possible at Island Paradiso.
Your Sim can also have enough of the divinggas and needs fresh air, when this is can be discover at the emotiongrid.
Last but not least
The Sims 3 Exotic Island is a big expansion in which you can put hours, and every time you will discover something new. In my opinion this expansion pack will not be a disapointment and has anything a exotic island should have.
Of course I want to thank EA for the invitation and the lovely cocktails! And a big thank you to the other fansite for the amazing day we had.