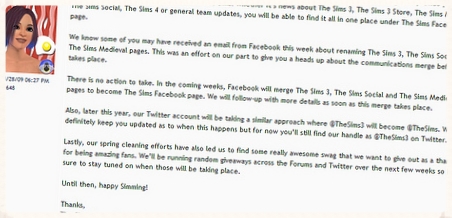 Gisteravond meldden wij al dat er veranderingen zitten aan te komen in de 'De Sims 3′ Facebook pagina's zoals Sims Social en Middeleeuwen, maar nu is er ook een verklaring gegeven waarom deze Facebook pagina's allemaal naar één pagina gaan.
SimGuruTatorTot plaatst als volgt op het Amerikaanse forum dit:
It's spring cleaning time on Facebook and The Sims Community team will be merging our product pages to provide you a one-stop destination for all things related to The Sims. Whether it's news about The Sims 3, The Sims 3 Store, The Sims Medieval, The Sims Social, The Sims 4 or general team updates, you will be able to find it all in one place under The Sims Facebook page.

We know some of you may have received an email from Facebook this week about renaming The Sims 3, The Sims Social and The Sims Medieval pages. This was an effort on our part to give you a heads up about the communications merge before it takes place.

There is no action to take. In the coming weeks, Facebook will merge The Sims 3, The Sims Social and The Sims Medieval pages to become The Sims Facebook page. We will follow-up with more details as soon as this merge takes place.

Also, later this year, our Twitter account will be taking a similar approach where @TheSims3 will become @TheSims. We'll definitely keep you updated as to when this happens but for now you'll still find our handle as @TheSims3 on Twitter.

Lastly, our spring cleaning efforts have also led us to find some really awesome swag that we want to give out as a thank you for being amazing fans. We'll be running random giveaways across the Forums and Twitter over the next few weeks so be sure to stay tuned on when those will be taking place.

Until then, happy Simming!

Thanks,
The Sims Community team
Kort samengevat: Er komt één generale pagina voor De Sims, hier in wordt je geupdate over Middeleeuwen, Sims Social, De Sims 3 en zelfs De Sims 4. Verdere details hierover komen nog. Twitter wordt later dit jaar ook opgeruimd en wordt één globale account, wederom weer met dezelfde reden.