Klik hier om de Nederlandse versie te lezen van deze review!
Introduction
"Explore an All-New World – Discover the Wonders of Lucky Palms Today! Rest and relaxation is the name of the game at The Sims 3 Lucky Palms! With ample parks, recreation locales, and a thriving culinary scene, you'll find yourself on an oasis of green amid shifting sands. This desert enclave offers manicured gardens, modern estates, and cozy abodes nestled on the banks of a pristine lake. At the heart of town lies a mysterious well that is said to grant wishes to those who are pure of heart….what will you wish for?" according to The Sims 3 Store. But what do we think about Lucky Palms? Is it a suitable world where you can live with your kids? Or a nice world to party all night? "
First impression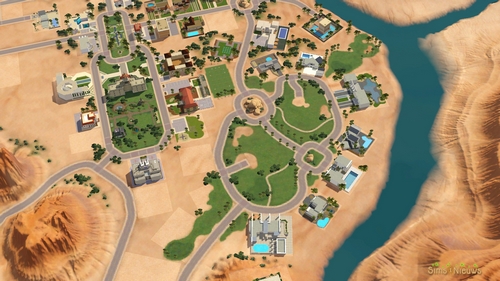 After seeing the introduction film I was amazed by this new world. What would I do first? Playing with a new family? Creating a family by myself? Where was the Wishing Well and where could I find the infamous casino? These questions were going around in my head and my eyes were bigger than normally. This world was fantastic!
Clothes
Together with this new world you get two outfits, one for men and one for women. It's a complete outfit for the men, quite elegant to be precise. It's a nice suit for a party or just as everyday clothes. There is a dress for women, but it can be difficult to combine it with something else. You have the choice if you want a stencil with flowers or not. Honesly, I don't like the dress. Also in a different color I don't think it suits my Sim. On the other hand, I think the outfit for men has really something, it's more casual than the dress.
Families
There are lots of new families added in Lucky Palms and this time they're actually good-looking! I've already mentioned in the review of The Sims 3 Diesel Stuff Pack that the designers are getting better in creating clothes for The Sims 3, but now also in creating Sims! A famous family in Lucky Palms is of course Darren Dreamer. In Dutch, we know him as Daan Dromer. Unfortunately for us, they didn't translate him as they did in The Sims 2. Luckily, he looks a lot like Darren Dreamer of The Sims 2!
Darren lives in a medium sized house without wife and kids. But he is in love with Darleen Matlapin! In The Sims 2 she's the mother of Dirk Dreamer. It seems that The Sims 3 takes place earlier than The Sims 2, that's why Darren Dreamer has no wife and kids. Maybe you want to play with Darren and Darleen, like The Sims 2 story, or you let Darren marry another woman. I really like the fact that you have this choice, it's a twist to what you're used to do with the default families.
As I already said, Darren lives in a medium sized house. There is much light because of the big windows and the equipment. It's like many houses in Lucky Palms: simple but stylish. There is one room in the house of Darren Dreamer that stands out: his studio with the big windows. If you look into the garden, you see an old slide and some plants. It seemed that the pool had evaporated to make more space for plants. Probably he has more to paint now.
Darren Dreamer is not the only single in Lucky Palms, there are more! It looks like there are more singles than EA had ever made. I don't know if that was chosen deliberately, but it's nice for the gamers who don't like to make their own boyfriend of girlfriend.
There are also some real families living in Lucky Palms and they have their own background story. Family Ross has a career problem: Marissa has lots of success as a businesswoman, but Phoenix doesn't know if he will make it in the army. He has to do the education of his daughter all by himself, because Marissa hates kids.
So, every family has its own problem and the single ones do what they want, but I really like the fact that there are enough singles and families to play with!
The houses of the inhabitants
When you take a look in Lucky Palms for the first time, it's already noticeable: there are houses on the jetty! This is the first time EA made houses like this and it has a great effect on the world. When you stay in such a house, it looks like you live on the water. There are four houses on the jetty of which three already are inhabited. They're not that big, but nice for a single person or a couple. When your family has more members, you have to build an extra floor.
The houses around the town hall are very big. When you move further into the city, there is something like a slum. I don't know if your new television or jewelry are safe over there, because you're near the abandoned warehouse.
The equipment of the houses is really nice, but I prefer my own. Not only the equipment is done carefully, also the appearances of the houses is very nice and the gardens are beautiful.
Community Lots
Of course there are also new community lots in this world. They all look like it's summer and are less 'business' than the ones in Bridgeport and Sunset Valley.
I was really surprised by the new bistro, it has undergone a real makeover! With a nice seaview you can enjoy your fried burger or lobster, because you can choose if you want to eat outside or inside! The buildings looks beautiful and modern. The other building that has got a makeover is the spa. When you walk on the wooden tiles, you already feel relaxed. Around the building of the spa, there are sunbeds and tables to enjoy the peace.
Next to all the buildings that have undergone a makeover, from the town hall to the police office, there are also new parks where you can chill or do activities. There is a place where your Sim can improve his fishing skills, also on the jetty. But there's also a new gym and a cafe where your Sims can have a drink. In the less luxury part of Lucky Palms, there is a pool, artstudio and a park for teenagers. They're all in the same style as the city, but also the less luxury part has its own appearance. I really like it, the lots are beautiful!
Nature
Not only the grass is transformed to sand, also the water has got a new texture than in the other worlds till now. It's more wonderful than first and also much brighter. The mountains around the city remind me of the Grand Canyon in America. They have a great influence on the city. It protects the city from the world around it and of course it just looks beautiful. You can also find some waterfalls in the mountains, they're very nice!
The first night in Lucky Palms, I noticed the beautiful sunset. There is a red glow above the city and gradually it becomes darker. First I thought it was a bug, but when there was a sunrise the next morning, I was quiet for a while. You really have to see this!
Build and buymode
You can already see beautiful plants in Lucky Palms, but you can also buy them yourself. The plants give a tropical atmosphere to your house and garden. But not only the plants are new, there is more! You get a brand new letterbox with a total new style, a new jaccuzi, a curtain, painting and a set for in the garden, including a parasol.
In the buildmode are new windows which you can place under the roof. It really gives a nice effect! On top of that, there is a new fence, some plants and a pillar.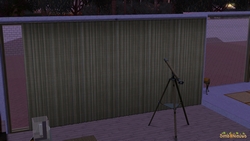 The objects you get when you buy this new world are very nice to use in your house and garden. So, if you build a new house, it can be in the same style as the one of your neighbor.
Wishing well
A new object in Lucky Pals is the wishing well. You can find it in front of the town hall in the park with lots of palm trees. When you click on the wising well, you get a few options: 'Steal a coin', 'Wish to…' and 'Go fishing'.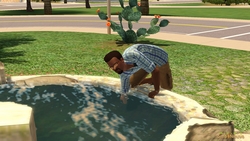 We don't want Darren to steal a coin, he's too sweat to do that. And we don't like to go fishing either. So when you choose 'Wish to…' you get some new options, like: 'Love', 'Child', "Wealth', 'Power' and 'Luck'. You can choose yourself, but succes is not guaranteed! Your Sim can also have bad luck, like an ugly friend, mean child or there just happens nothing.
I really like the animations with the wishing well. When you choose 'Love', there comes a frog which your Sim has to kiss. Unfortunately, there didn't happen anything to the frog which Darren kissed, so he jumped back into the wishing well. But you can get a handsome or ugly girlfriend/boyfriend and you immediately are sweethearts with him/her.
Conclusion
Lucky Palms is one of my favorite worlds now. They had a lot of attention to the theme and the textures of the land and water. In this world, you can really forget that your Sims still need to work, it just looks like they're on a holiday! You can perfectly raise your children in this city. I recommend this world when you have still some Simpoints. I give this world a 9!
Thank you, EA Benelux for the review copy of Lucky Palms!
AnsjJ2
---