klik hier om de Nederlandse versie te lezen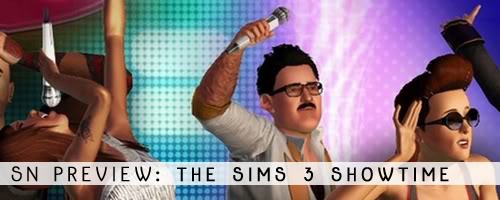 You probably noticed I was off to the EA office in Koln on Wednesday the 8th of Februari to see and play The Sims 3 Showtime. The event was organized very well, it was at the office of EA but it had been transformed into a lounge. The place was quite dark with green colours, there was a DJ booth and one big plumbob lamp. On one side of the room there was a big screen for the presentation of Michael Cox and on the other side there was a lounge place and some computers.
So we started off with a presentation and a demo by Michael Cox, the thing I found a bit weird was that this demo is already shown during the live broadcast a couple weeks back. So no new information there. After this demo we had the time to play the game ourselves. At first I went quickly threw the game to see what was new and what I really needed to tell you. After checking this out I found out I had a lot of time left, so I decided to discover the Singer career. Curious about what I found out? Read the latest news in this preview!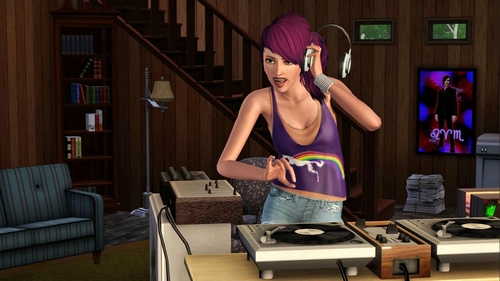 Create-A-Sim
There a lot of new items for the (Young) adult females. To sum up: 7 tops, 2 trousers, 13 outfits, 4 pair of shoes, 3 types of earrings, 2 necklaces, 2 wristbands, 1 pair of gloves, a new bikini and a gorgeous evening dress. A lot of outfits are quite flashy and really are made for the spotlights. You obviously need a hairdo to match this. Personally I would say that the hairdo's are a bit too much, three out of four are really big and up close there are not complimenting your Sim. But they are not created to see from one metre apart, they are meant for a life on stage and they would look awesome there. The headgear even ugly on stage. There are two small hats, pigtails with stems in them, a helmet wich reaches over the eyes, a cap which even koffers the ears and a Ninia/rabbit headgear.
For men there is much less; 3 outfits, 5 trousers, earrings, a watch an 3 gloves.Voor de mannen is er veel minder: 3 outfits, 5 nieuwe broeken, heel veel tops, een set oorbellen, een horloge en 3 lelijke schoenen. On contrast with the women, the clotches of men is not only meant for life on stage. These too are very pretty with a lot of detail .for example, there is a vest with a belt on the back which causes plications. There are five types of hairdo's: an afro, a shoulder lenght one, two shor ones and a ponytail. There is also a new beard added and it is perfect for a magician.
For both sex there is a new bunny suit, I think this is really weird and it doesn't add anything. I would prefer a nice outfit over this bunny suit.
For all the other ages there is nothing new, only for the teens. But the teenagers have the same outfits as the adults, only a few less.
There are drie new lifetime wishes; master singer, master magician and master acrobat. This means your Sim wants to reach level 10 of the new careers. There are also three new traits: Natural born peformer, your Sim will do well on stage is is born to do this; Social butterfly, your Sim wants tob e around people and likes to socialize; Centre of attention, this Sim likes the attention; Diva, your Sim finds itself really important, and so should everybody else.
What also is really fun to discover are the new tattoo's, 10 in total!
New items
I haven't checked out the new items for long, this because there weren't a lot of new furniture in my opinion. There are new items for the stages, I mean a lot of new items. These items are for the magician, acrobat but there are also a lot of new lights and stageparts.
What many of you will like are the recycled items of The Sims 2! I saw the karoke machine (which does not have any influence on the singer career), the jukebox, the pooltable, a MP3 player and the big mechanical rotating thing which caused a lot of bruised spot in The Sims 2 and will cause in The Sims 3 Showtime!
But obviously there are more items, such as a hummer, a orkbench for on the wall, a domino table and arcade games for two Sims. Most of the items are focussed on social interactions and the life of the rich and famous.
Singer
At first it was a bit unclear for me how to start of this career. Because the producers emphazised that Singer is a career, I was under the impression that I could click on a building to be a Singer. But this is not true, you have to go to a pub or a club, talk to the owner and do auditions. When he or she thinks you've got what it takes, you're hired. Of course you need to start at the bottom of the career, you start as a singing messenger. Even the work hours are a bit different than like a 'regular' career. You could compare it to an independent worker. You need to gain experience in order to get a promotion. You will gain experience by performing and doing assignments. You will get these assignments during work hours.
But besides your work you will get some gig possibilities. There will appear a request and you can either accept or reject it. When you click on the tab of work you will see a new button with 'gigs', when you press this button you will get an overview with your upcoming gigs. In the beginning it will be rather empty, but the more famous you become the more gigs you will get.
A few minutes before you need to perform you will get the opportunity to set up your stage. You can do this by clicking on the stage where you need to perform. I think you will get send to some kind of buy mode so you can adjust everything.
During the gig you as a player have a lot of influence. You can pick the song, chose to sing a verse or a course. When you are good your audience will cheer you on and even wave with their cellphone! But when you are not that good, they will start throwing objects. The only positive thing about this is that you can keep the thrown items.
More than once we've seen the big stage on screens and in clips. It indeed is true that you can only see a part of the audience. The outer circle is black, the middle one contains of Sim you will see a couple of times and which has the same animation over and over again, and the inner circle contains of NPC's who all react in their own way.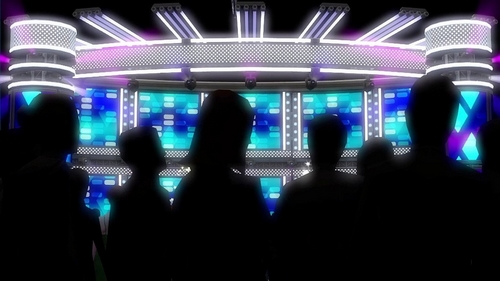 Simport
Simport has nothing to do with Facebook or Twitter, it runs via the official The Sims 3 website. There are two separate screens. One will let you manage the touring of your Sim and accepting the Sims of your friends and the other one is for your achievements. This last screen will count how many times your Sim went on tour and when reaching a certain amounts of tours you'll get a reward like a furniture set. But you will only get these rewards once you've, for example, been performing as a singer in the park for ten times. For every place and every career you need to reach certain goals, only then you will get some sets.
During your tour, your friend does not have to do anything. You Sim will appear on a stage in his or her game and will perform there for 12 to 24 minutes. After those minutes your Sim will return to your game. When your Sim is gone on a tour, you cannot play with your Sim, he or she is really gone and not clickable.
Monster
There have been a lot of questions about the monster. I asked the producers, but they didn't want to answer or confirm any rumours, it was a secret. But we all know that secrets won't stay secrets for long in the Sims community. There is circulating a picture of the French community with a genie on it. And during this preview I wanted to discover what the monster is. And I can tell you, I can confirm the rumours! While I was checking out the new lifetime rewards I saw the possibily of purchasing an old and dusty lamp. And the little Icon showed a lamp just like the ones we associate with genies and just like the lamp of the genie in The Sims 1!
Did you know…
Did you know that as a singer/acrobat/magician you can have a stage name?
Did you know that Starlight Shore had its own Hollywood sign in Simlish?
Did you know that you can see items from the store in buymode? You won't see all the items, just offers.
Did you know that vegetarian dishes are added?
Fransor
---
Pictures from the presentation in Germany.
---