Wil je liever de Nederlandse versie lezen? Klik dan hier.
On February third 2011 The Sims 3 Outdoor Living Stuff Pack was released. In The Sims 3 Outdoor Living your Sims are able to create a beautiful front yard and backyard.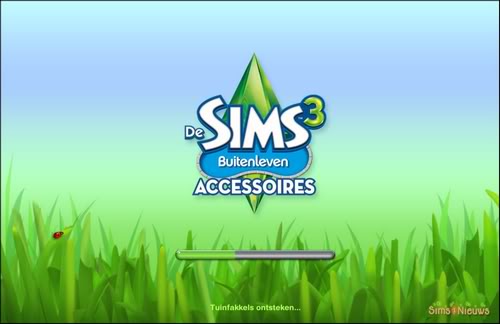 This stuff pack contains 40 new items and some new summer clothes. The nicest part of this package is the romantic garden set. This set is really complete with all the trimmings, a complete garden and kitchen with fridge, BBQ, including a barbecue tool. The atmosphere in your garden will become romantic and cozy. The super large television, which is also included in the package, you can put in- and outside. It will also look great in your house!
I was very happy to see four new hot tubs. Those are always fun and it gives you more choices, so the neighbours wouldn't have the same hot tub like you!
The garden furniture itself is very beautiful, everything is made out of iron: garden table, garden chairs, decorative plants, the iron lanterns with the candles in it and let's not forget the umbrella. There is also a pair of binoculars and a fire pit. All in all it's a quite complete package.
Besides the complete romantic garden furniture there is also a modern garden kit, which consists of a lounge chair and an armchair. These are a nice addition to the garden, or your pool!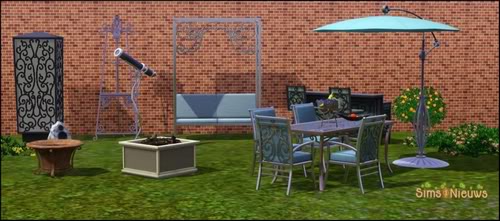 In the building mode, there are also a number of items added. Like a fence with a gate, the iron set supplement and two fireplaces, one for the romantic set and a large modern one.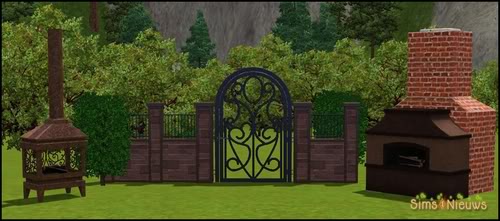 The wardrobe for you Sims is well complemented by several summer clothes, there are also some party outfits. These clothing will make your Sim sparkle with confidence.
Conclusion

My conclusion: This is an accessory package that you cannot miss. I like that they have a complete set in this package, it makes your garden look great! My rating: a big fat 8!
---
The rest of the Sims Nieuws staff abouth this pack:
I am very satisfied with it and give it a 7 + There are some nice stuff so your Sims like to go more outside and the clothes are looking good.
But it is a bit a messy and it does not quite fit together. No clear sets as in The Sims 3 Fast Lane stuff, but certainly worth the money.
hiki
I think it is nice package, especially for the kids playing in the gardens, a BBQ with your friends and with the new stuff out there, the package is great for your game.

AnsjJ2
Most furniture in the Sims 3 Outdoors I really like, it is not much for the price, but a must if you want a beautiful garden!

Nina
Outdoor living is the most succesful-pack for the Sims 3, i think. The furniture this time is in a style that we never saw in the game before and the additives make sure that you can make a nice garden.

What you will notice is that the clothing and hair styles, are getting better!

I_mJimmy
Outdoor living deserves it's reputation as a stuff pack, it really adds a lot of nice things in it!

Snateraar
---
Some of our forummembers abouth the pack:
I think it's a nice package. The Stuff is very nice. Too bad that there's only clothing for young adult and adults.

simmertje1981
I think it's a nice accessory package, there are some nice outfits and hairstyles.

simsfan1988
Usually i didn't do to much with my garden, because (i think) there weren't many options.
Now you can create outdoor kitchens and stuff! I think this stuff pack adds much more to my garden!

Zinooo
Hmmm I think it's quite disappointing! There are only a few new things. No, that was really not worth €20. But there are some interesting and funny stuff for outside.

Astaloca
---