klik hier om de Nederlandse versie te lezen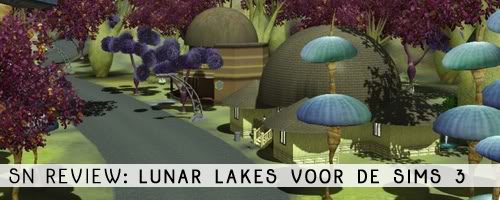 Introduction
The new World Lunar Lakes is a fantastic World full fantasy and perfect for Sims who want to escape from daily life. The story of Lunar Lakes is about the surviving Sims who landed on this alien planet, after their spaceship went down. The Sims left their spaceship in the middle of the town and built a building around it. The surviving Sims used their own technology from their planet and combined this with the found crystals, and that is how they survived on Lunar Lakes.
These smart Sims knew how to survive in this way, because of this they have been on Lunar Lakes for a couple of generations now. They built roads, created agriculture and founded a lively colony. But is Lunar Lakes something for the Simmer who does not like fantasy? In this review we, Nina and AnsjJ2, want to give you as much information on Lunar lakes as we can and we want to show you whether this world is worth purchasing.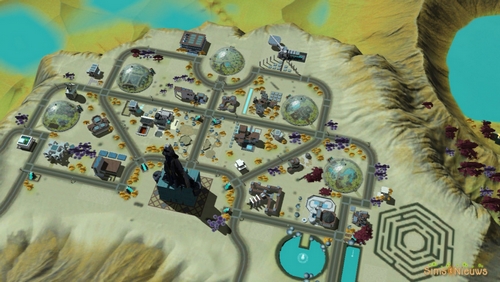 First impression of AnsjJ2
When I first heard about lunar Lakes, I got really curious. We already had an alien in The Sims 3 and I knew for sure that there would be such world in The Sims 3. Such a world would be really big with a lot of details. And that's Lunar Lakes. When I first opened the town I was kind of suprised by the many details and hours EA put into the world.
First impression by Nina
Only one day before Lunar Lakes was available, I heard about this new World. So I hadn't much time to read and see all the information. So when I opened the game for the first time, I was stunned. I really do not like fantasy and stuff, but this world got me curious. There are several interesting families, all with their own story and they are really worth your time.
Clothing
When you purchase this world you will get some new clothing such as two outfits and two pair of Shoes. One compleet outfit for men which looks like a modern ninja suit. The other outfit is for women and looks rather pointy and weird. The pair of shoes are also divided in one for men and one for women. I don't really like the clothing and they do not belong in Lunar Lakes in my opinion, the style fits The Sims 3 High-End Loft Stuff. The clothing of High-End Loft has the same style, ultra modern and it has the same colours as the clothing of Lunar Lakes. I think EA tot this on purpose, the clothing all has the same style so your Sims have some variation when you only want to use the futuristic style.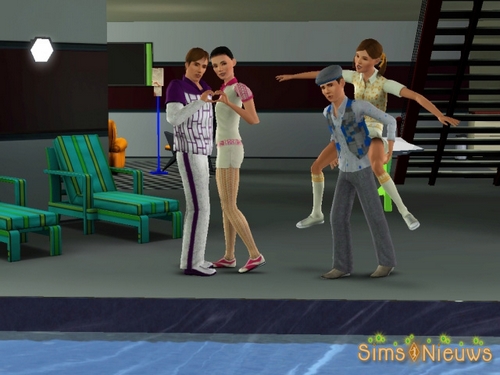 Families of Lunar Lakes
So there are a lot of fun families to be found in Lunar Lakes. We shall mention a couple and one in particular: The Belton family.
The Benton family has a dad named Benjamin, a mother Dahlia and two children, Carly and Jax. The entire family is athletic, except for Jax. He is the out stander of the family and everybody hates him. Luckely for him, he has Chrissie Landgraab.
Benjamin Benton is a star athlete (level 4), he is really athletic, brave and detests children. Benjamin is the only famous person of the family.
His wife Dahlia has a job in the law enforcement (level 6), she is also athletic but also ambitious and everything has to be perfect according to her.
Daughter Carly is the perfect example on how Benjamin and Daihla like their children, athletic. But Carly has a secret love, music. She is virtuoso, but still athletic and can be a real slob. There is another secret crush for this young lady, Jareth Alto.
Last and certainly least, Jax, hated by the entire family. He is Neurotic and a workaholic. But he can find happiness in a good friend of him, Chrissie Landgraab.
The house of the Benton family has an indoor swimming pool, three bedrooms and 1,5 bathroom. There are a lot of windows and it is located on a quiet place near the park 'Memories of Appaloosa Plains'.
A couple of other families of Lunar Lakes are also nice to begin the game with:
Landgraab clones: Christina Landgraab cloned three kids. It looks kind of freaky since they all look alike!
Alto: Trenton Alto is family of the alto you can find in sunset Valley. He is not really loved by the other Sims, but his wife is.
Bayless-Willheim: These two really love each other. They love to go to parties and live next to a lake.
Tomyoy: Michael Works in the army and is in love with Sofia Vanderburg.
Obviously there are more families, but the ones I mentioned above are the most fun to play with.
Nature
The outdoors of Lunar Lakes is the prettiest I've seen so far for The Sims 3. The coloured trees and weird toads are my favourite new 'objects'. The most beautiful place is on top of the mountain, this is far from the others and you can really enjoy the nature whilst you are picnicking or throwing a ball. Another special thing about the nature of Lunar Lakes are the five domes. They are not more than a bowl of glass with a garden in it, but these domes are special because you can find gardens in them which are inspired on Sunset Valley, Twinbrook, Hidden Springs, Riverview en Appaloosa Plains.
The parks are really beautiful and whenever you visit one of them you will feel like you are back on earth again.
There are also new rocks to be found, these look like the rocks which can be found around the spaceship and also look like the diamantes of the special tree. These rocks glow in nighttime, which is making Lunar Lakes even more beautiful.
The houses of the families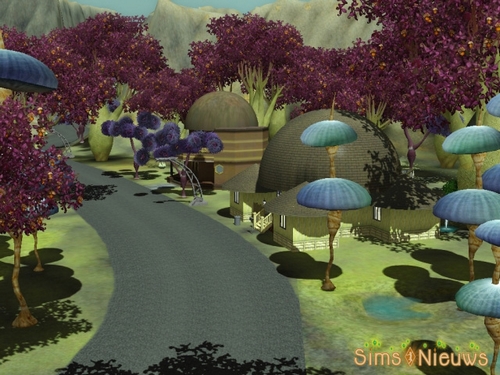 First of all what I noticed when seeing my Sims and their house, is the new mailbox. Of course I saw immediately that the houses were different , but the mailbox really stood out. My family even owned two, one with a pink line of light on the side and one with a white light. Both had the same and weird look. I really like them, I think it is a great detail and they match the houses perfectly! The houses of the Sims are also outstanding when talking about colours and shapes. EA really tried to make the houses look different, even the interior. The houses match the town perfectly!
Rabbit Holes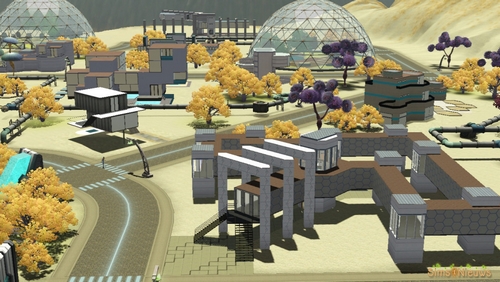 This time I really think the rabbit holes are disappointing, EA either had too little time to build real buildings or just didn't feel like it, I don't know. But the portals aren't really clear, it's only because the icons show what building it is, or else it would be a mess. The real location is probably underground, but you can only see the portal and your Sim walking towards it. But I have to say that the portals look good, I'm just not that enthusiastic about all the portals instead of buildings.
The other community lots which you can enter are, just like the houses, beautiful. It again is outstanding and I can get enough of looking at these new places! From the swimming pool till the library, all the details are marvelous and the Life of your Sim won't need anything else anymore. The community lots which can be entered are just fascinating.
Build and buy mode
When you purchase Lunar Lakes you will also get some Furniture, something I didn't expect because you didn't when buying Hidden Springs. The Furniture looks really modern and futuristic and again they match the ones oy The Sims 3 High-end Loft stuff perfectly. The furniture are: a couch, dining chair, dining table, a lamp and something for on the wall.
The wall decoration called 'The Simon map' has multiple squares and in everyone there is something written in Simlish. I think that this painting is some sort of navigation through Lunar Lakes, perhaps it leads you somewhere? Overall, the furniture is not hideous and EA really tried to create something nice. But then again, just like the clothing I'm not really enthusiastic more neutral.
The Build mode also gives you some new items like a window, a pillar and a door. These match the entire style of the houses of Lunar Lakes. Personally I really like the new door,but it is really a pitty that it opens like any other door. I secretly hoped that this door would slide in a futuristic way! But that doesn't make the door ugly or anything.
The tree of Prosperity
The tree of prosperity is the best object of Lunar Lakes. It is a tree which will, when you eat the fruit of it, give you a skill point. Every fruit has its own 'energy'. I let my Sim eat a Soul fruit and it got skill point in writing, and a Body fruit gave a point for martial arts, the Harvest fruit one for gardening and the Mind fruit one for writing again. There will probably be more variation in what kind of skill point you will get and the skills will probably be random but never the less, this tree is really good!
Conclusions
Conclusion AnsjJ2
The world on its own is really worth the money, even though I think the objects are less pretty than the world. When you like a fantasy world with special houses and interesting families, than you really have to buy this world although it is quite expensive. When you are doubting, I will give you a pieve of advice: wait for the sale, well if it will ever be on sale of course. Although it is worth the money, twenty euro's for just one world is a lot. Never the less, it should be about the world and not about its price.
The world is really fantastic if you like fantasy. It took me a cuple of days to really get used to it, but now I love it!
So, whenever you have a good filled wallet, buy it.
Conclusion Nina:
Before you really like Lunar Lakes, you first have to experience it for a while. After I did that, I really start liking it. Lunar Lakes isn't like any other neighbourhood which you recive with every expansion pack. Especially the journal creators must have this world.
My conclusion is that Lunar Lakes really is worth the money, even when you are – just like me – not a 'fantasy' fan, you will love Lunar Lakes.
---
---