Lees je liever de Nederlandse Versie? Klik dan hier.
On the 4th of Februari The Sims 3 Luxe: High-End Loft Stuff came out, this is like you would already expect not an expansion pack but a stuff pack. A stuff pack contains new items, clothing and hairstyles. There are no new things to do in the game itself like the going on holiday in the World Adventures.
Before this review commences I would like to explain the title and the theme of this new stuff pack.
In most of the countries this stuff pack is called 'De Sims 3 Luxe: High-End Loft Stuff' this name is much better than 'Luxe', but on the other hand a lot of (European) Simmers do not know what a loft is. In the big cities of America there are a lot of warehouses and at the top floor there just to live all kinds of artist. These places were called lofts. The artists used their lofts as a studio and they also earned money because they were watching over the building. These warehouses were often situated in a bad neighborhood: at daytime it was really busy with all the employers of the warehouse and in the evenings there was no one around.
Lofts are really big and open spaces without walls on the inside, really big windows and often there is an elevator, which often has wooden doors you have to open them yourself. Everyone knows these elevator of the old films. In the sixties a lot of hippies lived in these kind of places and in the eighties Yuppies lived there. This is how the neighborhoods with these warehouses became popular, even for families. Some fancy restaurants and stores are now established in these warehouses.
Finally we know where the name came from we can start with the real review.
In total there are 40 new objects, 20 new outfits, 5 new hairstyles and 5 new patterns in The Sims 3 Luxe. These are objects like stairs, a tube and a hypermodern radio. Unfortunately, there are no typical elevators, which you would expect within this theme. There are 3 items to celebrate the sims his 10th birthday, you will probably recognize these items from the Sims and The Sims 2. Now you can buy the vibrating bed, an electric guitar and a aquarium.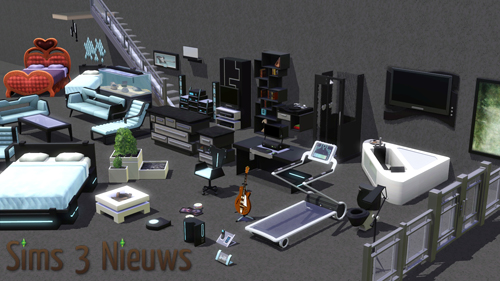 These 3 objects are a pleasant bonus and we will probably see them in a lot of houses. A lot of Simmers will like the aquarium a lot, now you can put you caught fishes in here instead of the small ones, with a maximum of 6 fishes. We also like to have new instruments to play on. I would like to see the drums or maybe a trumpet. The lovebed is a bit of useless. You can make it vibrate and lights will turn on. You should probably need to use it to make love to another sim.
There are 40 new objects, and just like you have already expected, which matches the High-End Loft living theme. This is why a lot of items are quite expansive, only the rich Sims will be able to effort them. But are these items worth this amount of money? Some will say yes, but other will strongly disagree. If your sim is poor it seems like a waste of money to buy an expensive couch, while a cheap one is comfortable as well. But if your sim has enough money, the items are more than welcome.
For example the objects for the living room. The TV's and the radio's are really nice and match the theme perfectly. In my opinion the couches are not really nice, but you may find them awesome.
I will not make a review on every object; that is simply too much. I will make a small summary: The Objects of The Sims 3 Luxe: High-End Loft Stuff really fit the theme and every piece is nice and has his own look. The items I really liked were the track machine, the tube and the campfire.
There are not only new objects but also new items for boys and girls at the CAS. There are a couple of new hairstyles and a lot more new outfits. Some will find these fabulous but some may find them hideous. The only thing I can say about this is that the hairstyles are not really special. There is one hairdo I really like, the long one for women, the other ones look too much alike.
The clothing, on the other hand, are really beautiful and there is a lot more of it. You will probably not like everything but most of the clothing of the Luxe: High-End Loft Stuff looks good and fits the loft life style.
When you write a review on a Stuff pack you will always refer to the The Sims 3 store. In the store you pay between the 10 and 20 euro's for a set of 20 until 50 items. If you buy a Stuff pack you get around the 70 new objects and CAS items for 20 euro's or less. If you take this in consideration you will see that buying a stuff pack is much cheaper than buying items at the Store. The only problem is that you cannot choose what kind of object you buy.
Some people say that the items of The Sims 3 Luxe: High-End Loft Stuff are too modern. This problem is easily fixed: Just give the too modern items a different color! The object will be less modern if you have changed the color with Create A Style. But even then they will look amazing.
All in All you can consider this stuff Pack worth its money if you like these kinds of objects. If you really do not like these modern items you may want to wait until there is an interesting sale at The Sims 3 Store. Although there are some typical objects missing in this stuff pack, like the elevator, it is a nice Stuff pack. Perhaps we can find these items in a later expansion pack or stuff pack.